We are proud to announce our new release, "Side by Side" (Burning Wolf 002), with Kentucky's world-renown fiddler, J.P. Fraley, twin fiddling his favorite waltzes, tear-jerkers and two-steps, with Betty Vornbrock. This album came about because of interest in various festival jam sessions in which J.P. finds himself the central attraction. His love of sharing music with anyone and everyone often manifests in hours of just such a repertoire, with other fiddlers joining in on harmony lines.
Betty, who also plays a wide range of Appalachian old-time fiddle tunes, is frequently a part of these sessions, and especially loves the challenge of twin fiddle, especially with someone as soulful and creative as J.P. This CD attempts to capture the interaction of these two emotive players, as they stray outside the realm of hoedowns, and delve into genres that have also been part of J.P.'s world of influence.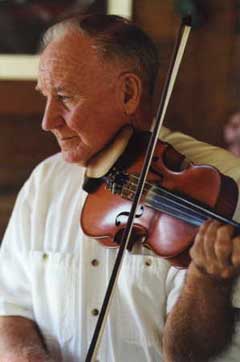 The tunes:
1. October Waltz (click to listen)
2. Tune for Andy (click to listen)
3. White Rose Waltz
4. Mary Dear
5. Black Hawk Waltz
6. Soft Rain
7. Ook-Pik Waltz (click to listen)
8. Festival Waltz
9. Begin the Beguine
10. Margaret's Waltz
11. Winds of Shiloh (click to listen)
12. Shades of the Yellow Rose Waltz
13. Midnight on the Water
14. Take Good Care of Her
15. Goldenrod Waltz
16. Waltzing on Top of the World
17. Uncloudy Day (click to listen)
These include such beautiful waltzes as Kenny Baker's "Festival" and "Goldenrod", country/western 2-steps such as "Take Good Care of Her" and "Mary Dear" , as well as two of Fraley's original compositions, "October Waltz" and "Winds of Shiloh". The tempo picks up some with another Kenny Baker piece, "Tune for Andy", and Cole Porter's "Begin the Beguine". Their haunting rendition of "Ook-Pik Waltz" is a highlight of this compilation, which winds up with the unaccompanied hymn, "Uncloudy Day".
Please try the music clips!
They are streaming audio, if you use RealPlayer. Don't have it?
Get your free download here.
(scroll their site to find the free version)
Joining J.P. and Betty are his daughter, Danielle Fraley, and Betty's husband Billy Cornette, on guitars, with J.P.'s long-time friend, Doug Chaffin, on bass.
This recording was made primarily in J.P.'s home during 1998/99. Final tracks and bass parts were added, and all was mixed at Flat Five Press & Recording (Salem, VA) for release in 2000.
We are honored and happy to have made this special CD at a time when J.P.'s playing was at its best. He is no longer performing, so we hope you enjoy the listening as much as we enjoyed the playing!